Så har vår svarta tik, Cleo, PREFIX REALLY SOMETHING, slagit till igen (med 5 svenska cert i bagaget) genom att ta sitt första engelska cert, CC, på East of England championship show i juli där hon också blev BIR för domare Mr A Bendelow: 1 CC & BOB, Agronius' Gib Jun Ch Prefix Really Something, really made my day, the moment she entered the ring I realised she was something special, full of herself & never put anything out of place, on the table quality from tip of nose to end of tail, all confirmed on the table & a pleasure to go over
Sitt andra CC och BIS-2 tog hon på Chinese Crested Club championship show 6/8 domare Diana Bowdler-Townsend (Moonswift) 98 hundar anmälda. 
På samma utställning blev vår lillkille PREFIX SINGAPORE SLING BIS Valp.
Detta var Dianas sista domaruppdrag innan hon flyttar till Spanien i september. Jättetråkigt då Diana är en stor personlighet. Hennes rättframma sätt, ärlighet och stora kunskap kommer att vara saknad av många. Hennes Moonswift hundar ligger bakom i stort sett alla framgångsrika hundar i England och övriga världen.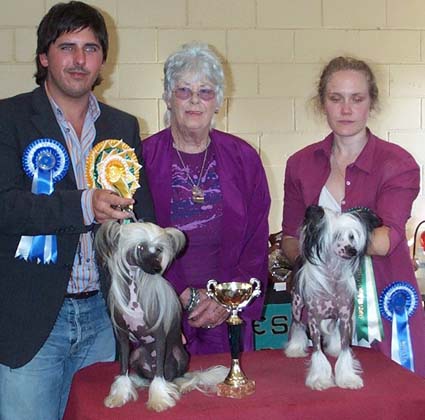 Robert Dunlop med BIS Ch Habiba Causing A Commotion, Diana Bowdler-Townsend och Rebecca med Prefix Really Something och nedan Gunilla i mitten med Prefix Singapore Sling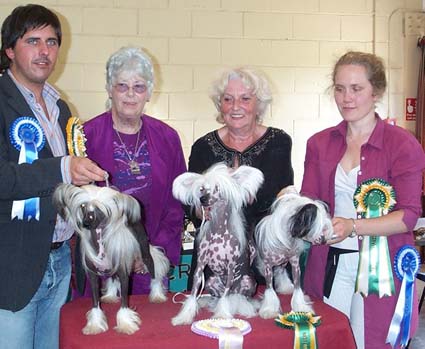 ---
Supermamman Multi Ch PREFIX ABSOLUTELY FABULOUS, Pats, tredje och sista kull har flyttat till sina nya hem. Ursöta PREFIX TOYOTA med sin rävröda och vita crest och svans har totalt kollrat bort sin omgivning, helt förståeligt, matte och husse är Desriée och Anders Bergström i Moheda.
Ljuvliga puffpojken PREFIX TIPPERARY har blivit lillebror till westien PREFIX PILGRIM TRAVEL nyblivna kinesmatte Bitte Österberg i Markaryd undrade varför hon inte skaffat kines långt tidigare! Sånt värmer.
Om man kan ha 110% charm så har svart vita nakentösen PREFIX TIFFANY det. För henne var det en enkel match att charma Gunilla och Bengt-Åke Bogren i Kristianstad som nu åter är kinesägare.
Puffpojken PREFIX TRAFALGAR stannar i kenneln och är bara så goooooooo!