C.I.B. Swe UK Dan Int Champion Swedish Winner '11 & '12  
 ÅRETS KINES  2011    ÅRETS NAKNA KINES  2012
ÅRETS AVELSHANE 2012 & 2013
CRESTED OF THE YEAR  2011  CRESTED HAIRLESS OF THE YEAR  2012  STUDDOG OF THE YEAR  2012 & 2013     CRUFTS  BOB 2011 shortlisted in the group. Our third Crested to be  Crufts BOB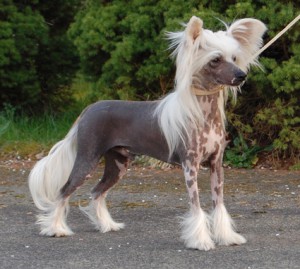 född 2008 04 02
ögon ua, patella 0/0, DNA testad PRAprcd clear.
Eyetested -09-10-12
e Angelwings Love Bug of Moonswift (n)
u Int Nord GB Lux Ch WW -09 Nord W -06 Brux W -06 Prefix Swede Smell Of Success (n)
<< Stamtavla / pedigree >>
Blå och vit.
Han har  CAC i Luxembourg och flertalet CACIB. Han har inte bara visat framfötterna i ringarna utan har också visat sig vara en mycket lovande avelshane . Flera valpar är redan champions.
born 02 04 2008
eyes clear tested -09-10-12 patella 0/0, DNA tested PRAprcd clear
He has  CAC in Luxembourg and several CACIBs. He has proven not to only be successful in the show rings but also as a stud dog. His progeny are now making their debuts and several are already champions.
From his first litter Int Nord Ch Prefix Rob Roy Of Scots
Int Swe Fin Lux VDH Ch Prefix  Mary Queen Of Scots
Chinese Line´s Doris Day 2 CACs
Swe Dan Ch Prefix Fair Play On Broadway , 10 CACIBs, 1 CC, 7 RCCs