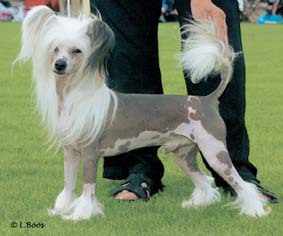 Int Swe Fin Dk N Nord Lux Fr UK Gib NL Ch Nord W-03 WW-01 KBHW-01
född 2000 11 17
e Eng Ch Moonswift Desert Wind (n)
u Int Nord Fin Lux Fr Gib Ch CC Crufts -01 Prefix Absolutely Fabulous (n)
<< Stamtavla / pedigree >>
Stjärnan i kenneln startade sin karriär med att bli BIS-Valp på världsutsällningen i Portugal 2001 därefter har karriären gått spikrakt. Gulliver har cert och CACIB i 10 länder. På UK Toydog '03 vann han BIR och sitt andra engelska CC, han vann även Champion Stakes. Gulliver har vunnit Res CC på Crufts -03 och tog det kvalificerande CC för sin engelska championtitel på Crufts -04. Han har ett flertal grupplaceringar och blev BIS på sommarspecialen -02 och vinterspecialen -06. Han är far till 5 champions däribland årets kines 2008 Ch Prefix Really Something.
2 x BIS Chinese Crested Club show
BIS valp Världsutställningen -01
4 x BIS-I Valp på 4 SKK ust
BIS-I Valp Specialen 2001
23 CACIB
48 BIR
16 BIG och BIS placeringar
4 CC, 2 RCC
Årets kines 2:a -02
Årets kines -03
Årets kines-hane -04
BIS-2 Lilla Stockholm int -06
Årets kines -06
Årets avelshane -06
>> Läs om Gullivers resa till USA 2005
born 2000 11 17
by UK Ch Moonswift Desert Wind (hl)
ex Int Nord Fin Lux Fr Gib Ch CC Crufts -01 Prefix Absolutely Fabulous (hl)
The star of the kennel started his career by winning BIS Puppy at the world show in Portugal 2001. After that his show career has been incredible. Gulliver has CACs och CACIBs in 10 countries including CC at Windsor '02 and UK Toy '03 where he also won the BOB and the champion stakes. He won the RCC at Crufts '03 and took his qualifying CC at Crufts '04. He has many group placings and was BIS at the Swedish Crested club's summer '02 and winter '06 shows. Gulliver is father of 5 champions among them Crested of the year 2008 Ch Prefix Really Something.
2 x BIS Chinese Crested Club show
BIS puppy World Show 2001
4 x BIS-I puppy at 4 SKK shows
BIS-I puppy club show 2001
23 CACIBs
48 BOBs
16 Group and BIS placings
4 CCs, 2 RCCs
Crested of the year 2nd '02
Crested of the year '03
Crested male of the year '04
BIS-2 Lilla Stockholm int '06
Crested of the year '06
Crested stud dog of the year '06
>>Read about Gulliver's trip to USA in 2005