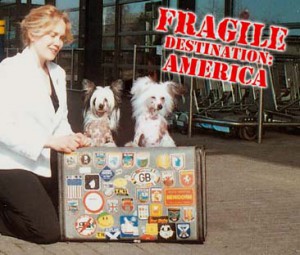 A MONTH IN AMERICA
At Crufts 2004 Elisabeth Matell (of Cracknor Norfolk Terrier fame) introduced me to Beth Sweigart (part of the Green Team) from the US. Elisabeth, in her inimitable way I'm sure, had persuaded Beth that it would be a fantastic idea for me to bring two of mum's dogs over to America to show for a while and stay with the Green Team. Beth agreed and so a year of the most unrealistic feeling started. Was I, Rebecca from Sweden, going to go over and stay with Beth and Peter, just like that?
Well as the year progressed the dream like state of my mind had to kick into gear and start organizing. Beth, so laid back, said 'let's make the arrangements at Crufts next year'. Naturally I couldn't wait that long! Thankfully my employer Dog World (UK's top dog paper) agreed to me having a month off during a less busy time of the year. So then quickly on the phone to Beth and yes the month of May would be suitable. So the second step was taken.
In January it, all of a sudden, was only 4 months to go. Time to register the dogs with the AKC which turned out to be rather confusing. Next how would we solve the logistics, where was I going to fly from, and what about Crufts and mum's ceramic stand? The Agronius family is one for organizing the most fantastic travel arrangements (after all we did sleep in the van in the street outside the European show in Barcelona!) so no need to worry, bar the telephone bill!
I am flying out form Copenhagen in Denmark on Tuesday May 3 which means I have to leave England on Sunday morning May 1 and drive the 1000 km to Sweden. Drop off my own dogs (yes the old Poodle is still around!), spend a frantic day at home and then catch the train to Denmark. And after that… well we just have to wait and see…
I will endevour to keep this page as up to date as possible with help from a friend. It is going to be a very hectic time in the States with lots of hard work (I'll be affraid of going to sleep in case I'll miss something!).
For the time being I would like to say a huge THANK YOU to everyone involved in this once-in-a-life-time experience. Especially the GREEN TEAM for having us!
Rebecca's diary May 2005
From the Garden of England to the Garden State, New Jersey
Tuesday May 3
After having been thoroughly fed and watered on the eight-hour flight from Copenhagen I landed as planned at the airport in Newark, New York.
I have never been to America. Ask me any day to drive across Europe without a map in a dubious vehicle and I'll do it without batting an eyelid. My trip 'stateside', however, has given me a few sleepless nights of pure excitement.
Starting from the beginning, we all know the story about Coco (Crufts BIS Ch/Am Ch Cracknor Cause Celebre), who I have now seen is quite a keen pond dog, although never actually catching the fish. Elisabeth Matell asked Peter Green and Beth Sweigart if I could come over for a while experiencing the American dog show scene and to show two dogs of my own.
At Crufts 2004 Elisabeth introduced me to Peter and Beth. I was weak at the knees and what I said probably didn't make much sense but yes, I was welcome to come and stay.
For the next year I went around in a dreamlike state not quite believing the adventure that was to start in May 2005.
Before I knew it, Crufts was on us again and little Coco guided Peter to the top spot. Needless to say I was even more excited now.
I started journey my journey the same evening that I came back from WELKS. I had to drive my dogs, the ones not going with me, to my mum in Sweden. Normal people would just drive up to Heathrow and be on their way but not me, I had to drive 1,000 miles first!
I flew out with SAS. They didn't give me any information on what was necessary for me or my dogs to get into America. I had to rely on information from friends and a very long message on the US Embassy's answering machine. I was OK to travel on my passport, the dogs only needed their rabies vaccination card and a health certificate no more than ten days old.
The flight went well. The two Chinese Cresteds, 'Gulliver' Ch/Int/Nord/Lux/Fr/ Gib Ch Prefix Hold Your Horses, and his daughter 'Cleo', Gib Jun Ch Prefix Really Something, travelled together in a cage in the hold. Newark airport is quite small so finding them at the other end was no problem. Going through customs they only wanted to see the health certificate.
Peter picked me up at the airport. I was very excited to see America, a country I only knew through films and TV.
At the kennels I met the rest of the team and we sat down for dinner.
Wow, what a feeling! I was here!
Wednesday May 4

The day at the kennels starts at 7.30am, letting all the dogs out and cleaning.
In the grooming room hangs a big white board with the names of all the dogs who are going to a show at the weekend. As each dog has its teeth, claws, flat work etc done the name is ticked off.
I got to bath a Portuguese Water Dog and a Tibetan Spaniel.
There are more than 80 dogs in the kennels; most of them are show dogs and some of them belong to the household. Two permanent staff, Ernesto Lara and Letisha Wubbel, work with Peter and Beth on the show dogs. During the day one girl is working full-time with help from a couple of part-time school kids.
During my stay the team is reinforced by Roxanne Thies, who has been working with Beth for 15 years, and Leonardo Garcini from Mexico with a background in Miniature Schnauzers. In the afternoon all the dogs come back in and are fed.
Thursday May 5
Today we continue to prepare the dogs for the weekend. Another big part of the team is Andrew Green, Peter's son, who has now joined in the preparations. The big truck was filled with cages and so was the van.
The first show was only a two-hour-drive away but as we had to be up early to get 'the' spot at the show we left Thursday afternoon for New Jersey.
Friday May 6
This was it, my first American dog show. To begin with it looked deceptively like any other dog show and then it hit me. All those names on the board were to be shown at the same time – what a frenzy!
Today was apparently a less frantic day as it was only terrier and toy specials. More than 40 dogs had to be prepared and got to the ring at the right time. The workload was divided between seven people. I tried to help out as much as I could with bathing terrier legs and beards, brushing and generally being at hand if anyone needed me.
Not only was I bewildered by all the activity around me I was also nervous as today would be my first USA show with Gulliver and Cleo. Luckily the tempo slowed down around lunchtime and I had time to get my dogs ready for the ring.
Gulliver was second in open dog and Cleo won Best of Winners, her first three point major.
As I came back to the set-up, the terrier group had started and eventually Peter stood as number one with the Airedale Terrier, 'Margaret', Am Ch Old Iron Margaret River.
All dogs were exercised and fed and we went off to dinner. Needless to say I slept very well that night.
Saturday 7 May
Time for Bucks County Show and we arrived at the showground as the sun rose.
Today would see more than 55 dogs being shown. In order to keep track of all the dogs, rings and ring numbers, Carl had been called in.
There is no way all dogs could be shown without Carl's complete control of what is going on. No dog has yet missed its turn in the ring when he has been in charge. Roxanne is responsible for getting the dogs ready for their turn in the ring.
In the set-up is a list which gives exact times of when the dogs are due in the showring. A judge will judge several breeds and more than one breed in the same ring. This means that there is a strict timetable so the exhibitor knows the earliest time they are due in the ring.
Some of the dogs shown by the team are taken to the show by their owners. Others come to the kennels a day before the show. Very few stay in the kennels for any length of time.
Today I was much more prepared for what was to come. No matter how much the others had to do they always had a minute to explain to me what to do. I really enjoyed myself. It was lots of hard work but the atmosphere in the set-up was great with lots of good laughs.
Yet again Margaret won the group.
Sunday May 8
Back to Friday's show ground and an even bigger show, Trenton KC.
Just as many dogs as yesterday but strangely enough it didn't feel as hectic.
The weather so far has been pretty cold but it didn't deter all the families visiting the show. I got a chance to walk around and found the trade stands were pretty much the same as home. I then watched a fabulous Kerry Blue Terrier BOB class judged by Ann Rogers Clark. The winner was a Mick Son handled by the team's Ernesto which later went on to win the terrier group. Cleo won her second three point major.
Monday May 9
Back home with most of the dogs. Half the team stayed for a show today with only ten dogs. A picnic!
Letisha and I looked after the kennels and unfortunately we had to take a dog to the Veterinary University Hospital in Philadelphia. As Peter is a close friend to one of the professors emeritus at the university we received special attention.
The vet we spoke to asked: "Who is Peter Green? Why is he special?".
Letisha and I looked at each other and both with the same thought: "How do you describe a god in the dog world?"
My first week has been fantastic, I couldn't feel more welcome. Both people and dogs are a delight to be around.
Unfortunately this means I will be going home in only three weeks time!
Rebecca earns a feather for her baseball cap in the big apple
Tuesday May 10
Back to the routine with dogs out at 7.30 and cleaning the kennels. I am getting the washing up down to a fine art.
There are mostly terriers in the kennels but also a few different breeds, such as Havanese, Labradors and, of course, Affenpinschers which Beth breeds along with the Norfolks and Norwich under the Yarrow affix.
Ernesto, who has been with the Green Team for ten years, turned down his ticket to go and see the New York Yankees play Seattle at the Yankee stadium for the next day and I was asked if I wanted to go instead.
I packed an overnight bag to go to New Jersey to stay the night at Andrew and fiancée Amy Kiell's house. Amy breeds top winning Samoyeds under the Pebble's Run affix.
Wednesday May 11
Time for the big day. I was going to see New York. I didn't see that much of Manhattan, but what I saw was pretty intense. The game was good and I quickly got the hang of the sport. One can't get any more American than a baseball game.
I had decided not to do any sight-seeing other than what would come naturally travelling to shows as I wanted to concentrate on the dog aspect. But at least I got a glimpse of the Big Apple. A trip to NY and Westminster is already pencilled in.
Thursday May 12
Today we got the dogs ready for the weekend shows. This time only four! The team split up, with Beth and Roxanne going in one direction and Peter and Andrew (assisted by me and Leonardo) in another. Ernesto was spending a long weekend in New Mexico at the Tibetan Spaniel specialty, Zeke 'The Monster' won BIS.
Friday May 13
One of the few shows within a day's driving distance was small, about the same size as any popular open show in the UK.
As this was on a Friday it was mostly an affair between professional handlers. They were spending a day at the 'office'.
At the set-up it felt like a picnic compared with the maddness of the previous weekend. There were only about 15 dogs to show. I am now beginning to find my feet and knowing what is expected of me which is a great feeling.
I got to help out showing the Norfolk Terrier, Dr Dre, owned by Roxanne, in the terrier group. I felt a little bit out of place with all the pros around me. It didn't help that the doctor wanted to play vacuum cleaner along the ground.
It was a very enjoyable day where good old Margaret won the terrier group again. I must admit I have never been a terrier person but the Airedales are really growing on me. Margaret is a true queen with a devilish twinkle in her eye.
One of the most beautiful things I have seen here that will always stay in my mind is the sight of Peter playing ball with Margaret in a deserted show ground. There are no short cuts to a great show dog, it is teamwork between handler and dog. The hard work is to nurture that special relationship.
Saturday May 14
Today I stayed at home and, assisted by Britney and the schoolkids, we took care of the kennels. I am so glad to have Britney around as to me one Norfolk looks very much like the next. You can imagine the disaster that could happen!
My two hairless travel companions had the weekend off from shows and really enjoyed the warm weather, which has been amazing these past few days.
Pennsylvania is very beautiful. It reminds me very much of Sweden and I can see why so many Swedes decided to settle here at the end of the 1800s. There are even a few of the typical Swedish red barns around so I feel very much at home.
Sunday May 15
Today was spent grooming dogs who are not currently being shown. Sunday is the dogs' day of rest so there is a little less to do in the kennels. I sneaked off to an antiques market – one of the area's many attractions.
Monday May 16
I had half the day off so Roxanne and I went off to see another of the area attractions – the mall!
We all know from American youth soap operas that this is the place to hang out. Well, I don't know what I had expected but it was very much like a shopping centre in the UK.
I am amazed how quickly I have become used to everything here, it is not as different from Europe as I thought it would be although instead of writing nickel and dime on the coins, wouldn't it be much easier to write how much they are worth? I get such strange looks when I always have to ask. Just an observation guys!
*************
Ernesto has been involved in show dogs since he was 13. He started out in his native Mexico with an Airedale Terrier by Bengal Pier Porter who quickly gained his title. During his school years Ernesto groomed and showed dogs for others as a hobby. Between 1980 and 1994 he was a professional groomer/handler and acquired quite a reputation.
Through friends in America Ernesto heard that Peter needed someone with grooming and show experience to come and work with the Green Team. This had long been a dream for Ernesto so in 1994 he packed his bags for Pennsylvania.
He has a small selective breeding of Airedales under the Tierra affix. He bred last year's top terrier in Mexico, the Greenfield Captain Fantastic son Am/Int/Mex Ch Fuego Fantastico, who is now living with long-standing friend Gabriel Rangel in California.
Ernesto has been registered as a professional handler with the AKC since 2001 and handles at approximately 150 shows per year.
A Fox Terrier a day is what the doctor ordered
Tuesday May 17
Today we were all back in the kennels again washing out all the dogs shown at the weekend. We were a handful for lunch as the lady who helps Beth with all the admin including sending the right prizes to the right owners was here. We had hot dogs – yes I admit it, hot dogs on the barbeque is a new favourite. At the end of the day Letisha, Roxanne, Ermesto, Leonard and I prepared for a night out at a Mexican restaurant. Beth and Peter had donned their best frocks for a Tibetan Terrier match. We had a fantastic time – even the Mexicans Ernesto and Leonardo agreed that this food was very much the real deal.
Wednesday May 18
We got everything done early in the kennels as Beth was throwing a birthday party for Eve Ballich (Evewire Fox Terriers) who turned 98! On the question of which vitamins she takes she replied that living with Fox Terriers was all that was needed! Can I have ten of those, please.
Thursday May 19
Peter and Leonardo departed for three shows at Long Island. Ernesto and I prepared the dogs who were to come with us to Virginia and Maryland. We went to New Holland for dinner. This is where they make the world famous New Holland combined harvesters, I think I am the only one to be excited over having been there!
Friday May 20
The morning began with rain so we had to let the dogs out in turns; although there were only four of us it all went really well. A few dogs have gone back home and some have joined the kennel. Ernesto and I left for Virginia, Beth stayed at home waiting for some Norfolk Terrier puppies to be born. On the way down Ernesto told me all about Mexico. Hmmmm, the World Show will be held there in 2007, I am very tempted. Of course I need a doggy reason to go anywhere otherwise it is a waste of time, surely.
Saturday May 21
A beautiful day at Mattaponi kennel club show. We were joined by Jamie Lahy who has worked for Peter and Beth for two years. I showed Gulliver and Cleo today and Gulliver took his first point. Today's highlight was the ten-month-old Norwich Terrier Bentley (Yarrow's Slightly Azure) who went BOB, beating his father Jenson (Ch Deansleigh Interceptor) and then winning the group! Jamie, who co-bred him with Beth, was mightily proud. We exercised the dogs, packed up and drove off to the next show in Maryland.
Sunday May 22
Up early to go to the show ground to exercise the dogs. This show was quite big although we could still park next to the rings which when you have more than 15 dogs to show is a necessity. It is nice not to have to drag trolley loads full of crates, tables, tack boxes etc over bumpy grass for miles.
The Cresteds had a good day in the ring winning winners dog and winners bitch.
I really enjoy meeting some of the owners of the dogs being handled by the team. The reasons why they ask professionals to handle their dogs vary. Some do all the coat work themselves and just show up with the dog at the ringside, whereas others leave their dogs from one weekend to the next to get some extra help with the presentation.
They feel that the dogs do so much better with a professional handler and enjoy watching the special connection their dog develops with the handler.
I can see the point of having someone else showing as I am sure I sometimes ruin my dog's chances by being too nervous but I do enjoy that special buzz from showing my own dog!!!
So why do the owners want their dogs shown if it is not partly for the fun of going into the ring themselves? Some owners only want their dog to become a champion; others want it to make it up on the breed's top list and then there are the ones who want go all the way to top dog. Needless to say to campaign a top dog takes time, effort and money. Norwich Terrier Jenson showed his son that just because he did so well yesterday he should not get too cocky as Jenson took the group. In the evening we watched Crufts on the telly. It hasn't been shown in America until now. It was nice for the team to finally see how it all happened. Coco is a little dog they all have a special bond with.
Monday May 23
Monday shows are usually much smaller and very much an affair between professional handlers. The morning started with me handling the Irish Terrier, Morgan, in the breed. I guess they felt safe to let me do it as she was the only one. Morgan and I did really enjoy our time in the ring. I do like Irish Terriers now. In Cresteds we did the double again. I showed Morgan in the group. Ernesto had earlier given me a few hints on handling. Much of it is how confident you look and behave. So out came the elbows… It is strange that all these pros, when it comes to the group, become very blasé. Once their dog had been seen they were chatting away to the world and his dog, not paying attention to the queuing order – yes I am very precise about queues! or when it was time to get ready for the judge.
Eventually they all scrambled to their feet to stack their dogs; elbows were very handy at this point. Jenson was second and we could pack up and leave. We came home early so we went to the local restaurant to celebrate the weekend's wins including a BIS win for Margaret at Long Island.
THE FINAL WEEK
Tuesday May 24
Only one week left! What happened to this month?
It was very busy today in the kennels as we only had one and a half days to wash dogs from the previous weekend and get them ready again for the coming shows. We have five shows coming up starting on Thursday and ending Monday, which is a bank holiday here. We are yet again going in two different directions.
We had our last dinner together before I leave. I was entertained by a very heated and interesting discussion about the virtues of feeding the dogs from paper bowls versus normal bowls when being at shows. The lads went for normal bowls – just shows how often they do the washing up – and the sensible girls went for the paper option. It is a good thing the lads go one way and the girls another tomorrow and then we will see who was right!
Wednesday May 25
Although very short on time to get everything ready we managed with time to spare. Beth gave Letisha a quick lesson in reversing a car with a manual gear stick. No doubt she will be practising all the time we are away.
On the way to western Virginia I managed, for the first time during my stay, to buy some postcards. I simply haven't had time for anything like that so anyone who didn't get a postcard (Tamara!) you now know why.
At the show we fed and exercised the dogs. We met up with top handler Michael Kemp who I later had a chat with about the good old days…
Thursday May 26
Up early to prepare Gulliver and Cleo so that I could concentrate on the other dogs once at the show. It started with a hectic morning when all 16 dogs were to be shown. This venue was very spread out with very little information about where the rings were and lots of walking!
Quite a few breeds had their specialty during the cluster. I thought the sun or the food had gotten to me when the Giant Schnauzer Club decorated their area with Christmas decorations! Apparently I am not insane, it is just a 'thing' they do here. Another club had Valentine's Day as their theme.
As we finished early we snuck off to the local outlet centre for some much-needed retail therapy as I had a bad day in the Crested ring and spending money made me feel much better, naturally!
Friday May 28
Today I didn't have to get up half an hour before I went to bed to prepare my dogs, as they weren't due in the ring until later on. Roxanne gave me a really good coaching speech that would have been enough for the England football squad. I stepped into that Crested ring full of renewed confidence and it paid off! Gulliver went winners dog, Cleo went winners bitch. And then… Gulliver went all the way to BOB and his first three point major! Cleo pushed hard for BOS. What a feeling to present my own dog in the main ring later on!
Saturday May 29
Third day and two more to go. I do like the idea of having several shows in a cluster like this. You only need to make one trip to the show, you get several chances to practice your handling and presentation skills, getting a young dog used to shows and obviously more chances to win more points.
To travel far for one chance in the ring and with weeks to the next one, like we do in England, feels like hard work now (yes my middle name is Lazy).
Now imagine this: all breeds on one day for four days at Malvern for example; the mind boggles.
Cleo was winners bitch and has three points to go. Over the next two days two points per day are on offer! The Crested people here have been very friendly.
Sunday May 30
Another day another show. The team's dogs have done quite well with a few group wins.
I was taken on a tour of one of the 'monster' motor homes they have here. Bear in mind that I am used to mum's Toyota Hiace when travelling between shows. This one could fit two or three Toyotas inside! It almost takes the fun out of camping but with lots of space for you and your dogs, washing machine, fridge/freezer, complete bathroom etc it also takes away all those nightmares which can and will happen when dogs gets involved in camping.
Monday May 31
Wow, we have spent an entire working week at dog shows. What a dream, only in America! My last show.
Cleo missed out on the points yesterday but Gulliver went best of winners and repeated the feat today. Cleo, handled by Beth, went winners bitch and BOS. This means that she missed her title by one point! Gulliver still needs four points and a major.
Unlucky but now I simply must come back again! Beth has offered to handle Cresteds as a result of showing Cleo. Although Beth and Cleo shared a bed the other night I am not sure Beth is entirely sold on the hairless idea.
As the groups were under way the skies opened and we had to quickly pack up and leave. Roxanne left for her home in sunny(!) California and we headed back east. We made it home in good time. As it was my last evening in the States Letisha and I came up with the brilliant idea to go and see Star Wars… Don't ask me what I thought of the film as I was constantly nodding off.
Once back home little Evie, the Norwich Terrier, thought it good time to start whelping. As Letisha and I were still awake (ish) we sat down to help her along. Three little puppies were born and quickly named Luke, Leia and Obi-Wan. Beth was not over the 'stars' about those names and we thought we were so clever coming up with them… By this time Monday was well into Tuesday.
Tuesday June 1
So the final day arrived, how it happened I don't know, it went too quick. A last clean out of the kennels and goodbyes to all the dogs. I will miss them. And finally goodbyes to all my two-legged friends. How I wish I could have stayed much, much longer. There are so many more things I would like to learn and see.
I am so glad to have been able to see the American show scene. It wasn't perhaps as different to what I am used to – a show is a show is a show – but the way it works with professional handlers certainly was.
The flight back went well and we were all quite glad to see mum again.
*************
Beth grew up with hunting Labradors. She started breeding and showing them in the late '60s when she also bred a few Airedales until in 1975 she was given a Norwich Terrier. In 1978 Peter gave Beth her first Norfolk Terrier 'Muffin' and in 1994 the Affenpinscher made its appearance.
Beth ran her own boarding kennels in Virginia and she was one of the fou-nders of Potomac Labrador Retriever Club. She has always been active in the local kennel clubs.
Her professional handling career started in the early 1980s with Mrs Reed, Labrador and Norwich breeder, asking her to help her to show. Her first client dog was the Norwich Terrier, Ch Royal Rock Don of Chidley, also a top sire.
When Mrs Reed passed away in 1985 Beth started working with Peter. And the rest, as they say, is history.
When asked about the most special win over the years Beth gave the question some thought. There are quite a few good wins in her career but she finally opts for her first time winning a group at Westminster. In 1990 she won the sporting group with the Irish Water Spaniel Ch Mollory Tripple Expectation. 'Jae' was a brand new dog just starting his show career and he was not expected to win. He was a true show dog and a favourite with the crowd as he answered their cheers by barking. He truly enjoyed that special moment.
Beth feels that most important for a handler is to have a rapport with the dog. A dog can be made champion but to be campaigned it needs something like the special relationship Coco developed with Beth.
Presentation is important. It is getting equally or even more important than the quality of the dog, which is bad as we might lose sight of the fact that dog shows are a judgment of breeding stock.
Peter and Beth will retire as professional handlers after Westminster next year. They will carry on in dogs as judges, something the American dog world should take full advantage of and will benefit from. This is why my stay with the Green Team was a once-in-a-life-time experience (oh and I don't think I can come and stay with people in this way for the rest of my life…?). Ernesto will continue with the handling co-working with Andrew.
SHOW             JUDGE             AWARD             POINTS
Delware Valley Toy Dog FA
May 6, 2005
Barbara Wood
(28 dogs present)
Gulliver: Open Dog 2
Cleo: Winners Bitch & Best Of Winner
–
3p major
Bucks County Kennel Club
May 7, 2005
David Ojalvo
(32 dogs present)
Gulliver: Open Dog 2
Cleo:Open Bitch 3
–
–
Trenton Kennel Club
May 8, 2005
Charles Trotter
Gulliver: Open Dog 3
Cleo: Winners Bitch
–
3p major
Mattaponi Kennel Club
May 21, 2005
Kathy Bucher Sawyer
Gulliver: Winners Dog
Cleo: Open Bitch 3
1p
–
Carroll Kennel Club
May 22, 2005
Herbert Rosen
(10 dogs present)
Gulliver: Best Of Winners
Cleo: Winners Bitch
2p
1p
Carroll Kennel Club
May 23, 2005
George Heitzman
(10 dogs present)
Gulliver: Best Of Winners
Cleo: Winners Bitch
1p
1p
Trumbull Kennel Club
May 26, 2005
Peggy Hauck
(12 dogs present)
Gulliver: Reserve Winners Dog
Cleo: Open Bitch 3
–
–
New Castle Kennel Club
May 27, 2005
Joyce Fortney
(16 dogs present)
Gulliver: Best Of Winners & Best Of Breed
Cleo: Winners Bitch
3p major
2p
Butler County Kennel Club
May 28, 2005
William Usherwood
(21 dogs present)
Gulliver: Open Dog 3
Cleo: Winners Bitch
–
2p
Trumbull Kennel Club
May 29, 2005
Carol Kniebusch Noe
(20 dogs present)
Gulliver: Best Of Winners
Cleo: Open Bitch 3
2p
–
New Castel Kennel Club
May 30, 2005
Colleen Brossard
(16 dogs present)
Gulliver: Best Of Winners
Cleo: Winners Bitch
2p
2p

It takes 15 points to become an American champion and at least 6
points must have been won at a major (show with 3 or more points).
So Cleo just missed out as she ended up with 14 points and the two
majors needed. Gulliver ended up with 12 points and one major.