NY INTERNATIONELL CHAMPION och DANSK CHAMPION
S o LUX CH PREFIX TRAFALGAR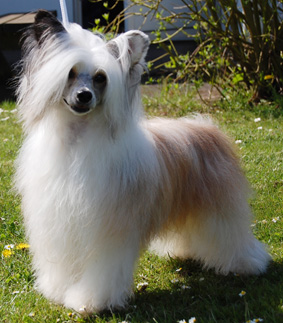 © Anna Carlsson

© Anna Carlsson
Multi CH PREFIX ABSOLUTELY FABULOUS 6:e avkomma med
INTERNATIONELL CHAMPIONTITEL.
Nelson med matte Annica, husse Nisse och lillmatte Anna, Carlsson i efternamn, åkte med Gunilla till Hilleröd, Danmark 3/5 där han tog sitt kvalificerande CACIB, 1 månad före sin 3-års dag, cert och BIR och Crufts kvalificering. Domare Kitty Sjong
NEW INTERNATIONAL CHAMPION and DANISH CHAMPION
Multi CH PREFIX ABSOLUTELY FABULOUS' 6th puppy with an
INTERNATIONAL CHAMPION TITLE.
Nelson, with owners Annica, Nisse and Anna Carlsson went with Gunilla to Hillerød in Denmar May 3. He won his qualifying CACIB, 1 month from his third birthday, CAC and BOB as well as qualifying for Crufts 2009. Judge Kitty Sjong.