Vi har hunnit med en minisemester som började i
Bryssel 24/6 domare Birgit Seloy Danmark, 26 anmälda kineser DK Ch Prefix Stompin At The Savoy tog CAC (CAC på Brysselutställningen betyder att man får 2 CAC, i Belgien behövs 4 CAC för championat) CACIB (hans 3:e) BIR och BelgiskW -06 Prefix Swede Smell Of Success blev BT-2 med CACIB och BrysselW -06.
Rebecca och Alfie startade i agility och hoppklass som dom vann, vinsten var 3 säckar med 15kg hundmat i varje, Royal Canin som tur var. Inte så himla lätt att stuva in i en redan mycket fullpackad minibus.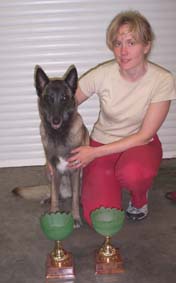 Några pokaler blev det också.
Helgen därefter var det dags för Windsorutställningen och det var så nära, sååååå nära. Cleo, S DK Ch Prefix Really Something (2 CCs) blev BT-2 med reserv CC. Närmare championatet än så kan man inte komma, domare var Lisa McKenzie (Chinois). Det får bli fler resor till England, det ser vi fram emot. Vi hann med ett besök på det omtalade Eden anläggningen . En verklig upplevelse att få gå omkring i regnskog mitt i engelska Cornwall.