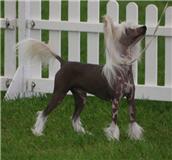 ÅRETS KINES Int S Dk GB Ch SV-11 PREFIX ABRAHAM LINCOLN "Peppe". Det blev verkligen Peppes år! Han började med att ta sitt första engelska cert (CC) på Crufts där han även blev BIR och uttagen i gruppen. Han är den tredje Prefixaren att bli BIR på Crufts. Fyra år i rad har PREFIX blivit BIR på Crufts, ett svårslaget rekord. Därefter tog  han sitt engelska championat med tre CC på raken, domare Liz Stannard, Mark Burns och Tom Isherwood. Han blev BIG2 i Richmond för Andreas Schemel, slagen av en Bichon som blev Årets Hund alla raser i England 2011! Peppe är vår femte engelska champion. I Sverige blev han BIR fyra gånger och tog Svensk Vinnartitel.
CRESTED OF THE YEAR Int S Dk GB Champion SW-11 PREFIX ABRAHAM LINCOLN "Peppe". 2011 really was Peppe's year. He started off going BOB at Crufts  with his first CC, he was also shortlisted in the group. PREFIX has been BOB for four consecutive years at Cufts, quite a record! Then Peppe won his English title with three CCs in a row, judges were, Liz Stannard, Mark Burns and Tom Isherwood. He was group 2 at Richmond under Andreas Schemel beaten by the Bichon that  later became dog of the year in England 2011. Peppe is our fifth English Champion.
ÅRETS CHAMPIONS/CHAMPIONS IN 2011: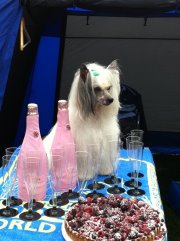 PREFIX MARY QUEEN OF SCOTS
(by Int Ch Prefix Abraham Lincoln ex Int Ch Prefix Upstairs Maid)
Svensk o Finsk Champion.
Dessutom blev hon ÅRETS KINES-6
Swedish and Finish Champion.
She was also no. 6 top crested.
KBHV-10 PREFIX ROB ROY OF SCOTS
Svensk och Dansk Champion (bror till Mary)
Swedish and Danish Champion (brother of Mary)
Anna Carlsson var ett halvår i USA där hon visade
Int Nord Lux Champion Prefix Trafalgar
till, inte bara, US champion utan till Grand American Champion!
Anna Carlsson spent 6 months in the US showing
Int Nord Lux Champion Prefix Trafalgar
to his, not only, US champion title but also his Grand champion title!
Prefix The Name Of The Game visade hon till Amerikansk champion.
Anna showed Prefix The Name Of The Game to her US champion title.
S Dk Ch Prefix Tipperary
Finsk och Nordisk Champion äg Bitte och Tony Österberg
Finish and Nordic Champion, owner Bitte and Tony Österberg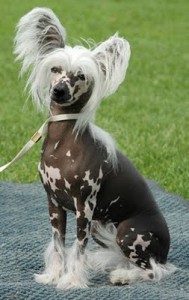 S N Ch Prefix X-Mas Gift
Dansk och Nordisk Ch äg Kennel Yamboliz
Danish and Nordic champion, owner kennel Yamboliz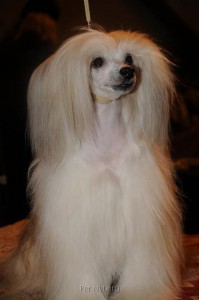 Starkast lyser den oövervinnerliga Int Nord VDH Ty Lux championVWW-10
Prefix Hot Gossip född 2000. Hon blev ÅRETS KINES 2010 och året därpå  2011 ÅRETS KINES #3, ÅRETS POWDERPUFF, ÅRETS TIK och ÅRETS VETERAN!
Greatest of them all is the invincible Int Nord VDH Ger Lux champion VWW-10 Prefix Hot Gossip born 2000. She was top crested 2010 and the year after 2011 3rd top crested, powder puff of the year, bitch of the year and veteran of the year!
foto Per Nyberg
FÖDDA / BORN 2011:
Vi hade en valpkull: 2 hanar 2 tikar alla nakna efter 'Peppe' undan Int Nord Lux Gib GB US Ch Prefix Really Something. Vi behöll alla valparna. Två har ställts ut och "Grace" Prefix Fair Play On Broadway debuterade med cert och fick titeln Nordisk Juniorvinnare-2011.
We had one litter: 2 dogs and 2 bitches by 'Peppe' ex Int Nord Lux Gib GB US Ch Prefix Really Something. We kept them all. Two have been shown and 'Grace' Prefix Fair Play On Broadway made her debut by winning CAC and gaining the Nordic Junior Winner 2011 title.

Prefix Fair Play On Broadway
Vinterspecialen 2011 / Winter club show 2011: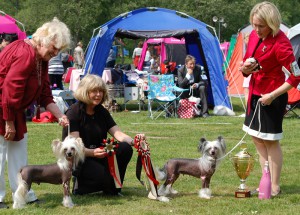 Vinterspecialen i Hässleholm med domare Britta Roos Börjesson  blev en succé för PREFIX. P. Really Something blev BIS och Peppe BIM och Grace BIS-valp. BIS uppfödargrupp och Peppe BIS avelsgrupp. Prefix Rob Roy Of Scots BIS Unghund och cert.
Club winter show 2011 in Hässleholm with judge Britta Roos Börjesson was a success för PREFIX! P Really Something was BIS, Peppe BOS, Grace BIS-puppy, BIS breeders group and Peppe BIS progeny group. Prefix Rob Roy Of Scots BIS intermediate and CAC.

Bortgågna / Passed away:
Stor sorg drabbades oss när Pats (Int Nord Lux Fr Gib Ch Prefix Absolutely Fabulous) gick bort. Hon har betytt allt för kennel Prefix. Framförallt nedärvde hon sitt fantastiska showtemperament. Hon hade 3 kullar, 16 valpar, 11 utställda, 8 Int Ch, 3 GB Ch, 4 Världsvinnare, 1 Nord Ch, 4 CACIB, 12 Cert, 1 ck. Som jag många gånger sa "man kan para henne med en cykel och hon producerar toppvinnare". Hon var inte bara en fantastisk avelstik utan en underbar hund att leva med, kommer alltid att känna saknaden.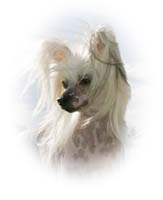 We suffered a tremendous loss when "Pats" Int Nord Swe Dk Fin Nor Gib Fr Lux Bel Ch Prefix Absolutely Fabulious  left us. We owe all our success to her. Most of all she  passed on her  fantastic show temperament. She had 3 litters, 16 puppies, 11 dogs showed, 8 Int Ch, 3 GB Ch, 4 WorldWinners, 1 Nord Ch 4 CACIB, 1 2CAC, 1 ck. I said , many times, I can mate her to a bicycle and she will produce top winners. She was not just a marvellous brood bitch she was also a wonderful dog to live with, she will be for ever missed.
Fest /Party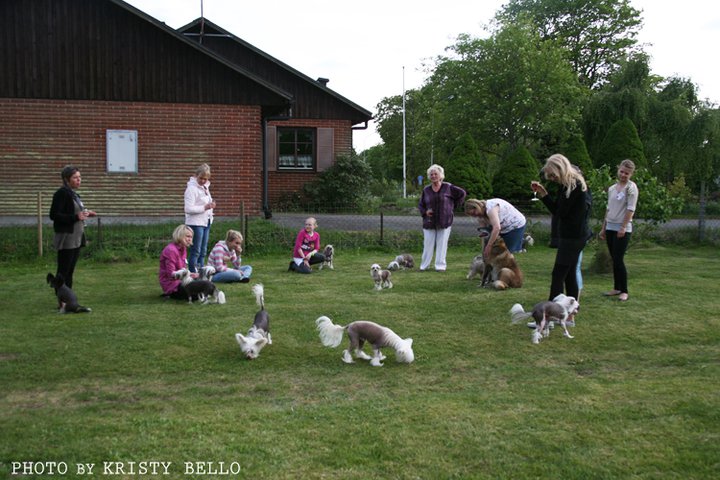 På lördagen dagen innan vår Special 22/5 samlades vi ett gäng glada kinesvänner till trevlig samvaro för att fira klubbens jubileum. Vi hade jättekul och våra 36 glada fyrbenta umgicks och hade vansinnigt roligt, lite kärlek spirade här och där. Så roligt att se så många kineser från många olika uppfödare kunna samsas och ha så kul tillsammans. Stort tack till Rebecca och Jörgen som ordnat med festen som verkligen blev jättelyckad.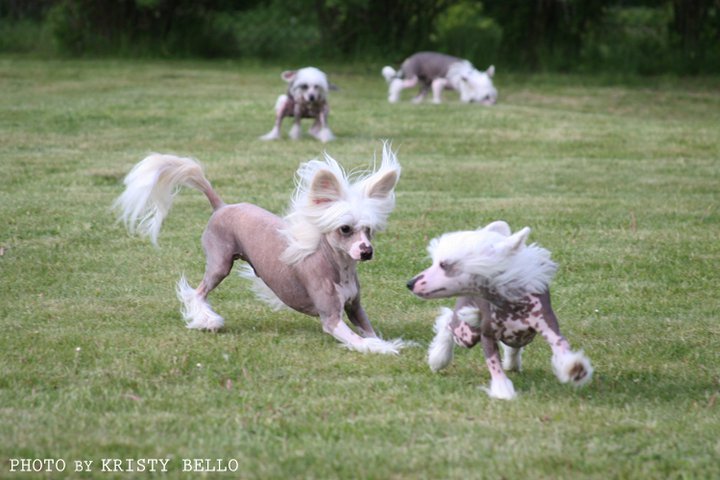 To celebrate the club's 20th anniversary we gathered about 36 dogs with owners for a barbeque. Very much appreciated by all.