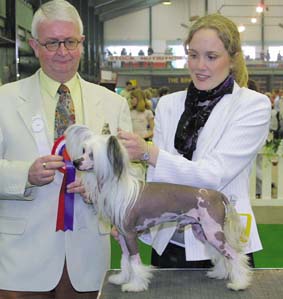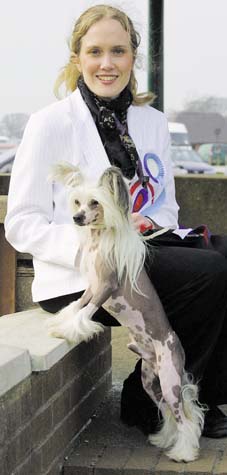 UK Toydog Society's Championship show 29/3 03
Nord Lux Ch PREFIX HOLD YOUR HORSES slog till och vann sitt andra CC för Jeanette Sewell (Blandora)! Han tog även BIR då han slog 88 anmälda kineser.
Gulliver ställdes också ut i Champion stakes för domare Andrew Brace där han golvade domaren helt och travade fram till första platsen. (I denna klass tävlar enbart champion hundar ur hela toy gruppen!). Så här sa domaren om honom:
What a fantastic class, as good as any group & I was unplacing dogs to whom I have previously awarded CCs, such was the strength of the competition. 1 Agronius' Nord Lux Ch Prefix Hold Your Horses, simply stunning pink spotted Chinese Crested male, completely bowled me over. Exquisite head, good mouth, elegant neck, firm backline, so well constructed, luxuriously fringed, he looked a million dollars & moved around the ring freely & with great style. It was interesting to discover that his dam was a group winner under me in Europe, & I think he is even better.
Vilken fantastisk klass, lika bra som en grupp och hundar jag tidigare givit CC blev oplacerade, så stark var konkurensen. 1 Agronius Nord Lux Ch Prefix Hold Your Horses, helt enkelt strålande rosa spottad chinese crested hane, fullkomligt golvade mig. Utsökt huvud, bra mun, elegant hals, stram rygglinje, så väl konstruerad, lyxigt behårad, han såg ut som en vinnare och rörde sig fritt runt ringen med mycket stil. Det var intresant att få reda på att hans mor varit gruppvinnare under mig i Europa och jag anser att han tillochmed är bättre.

Så här sa han om mamma Absolutely Fabulous i oktober 1999
"best junior in group with a fabulous hairless bitch who is possibly the most exceptional Crested I have ever judged. Exquisite for size, balance, movement and head, Prefix Absolutely Fabulous more than lives up to her name…"
Andrew Brace Dog World October 8, 1999