Till våren planerar vi en kull efter
PREFIX ABRAHAM LINCOLN
undan

S Dk Ch PREFIX UPSTAIRS MAID (5 CACIB)
och till hösten en kull undan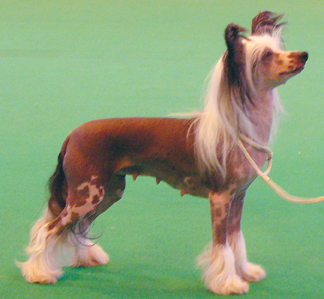 Int Nord GB Gib Lux Bel Ch NordV-07
PREFIX REALLY SOMETHING
Framför allt ser vi fram mot att PREFIX ABRAHAM LINCOLN startar sin utställningskarriär.
Under 2009 firar vi
20 år som uppfödare av Chinese Crested Dog.
Vi har varit årets uppfödare 10 gånger.
In the Spring we plan to have a litter from
PREFIX ABRAHAM LINCOLN out of
S Dan Ch
PREFIX UPSTAIRS MAID
(5 CACIBs)
daughter of Prefix Really Something.
and in the autumn we plan a litter from
PREFIX REALLY SOMETHING.
Above all we are loking forward to
PREFIX ABRAHAM LINCOLN staring his show career.
In 2009 we will be celebrating
20 years as breeders of Chinese Crested Dog
. We have been
Breeder of the year 10 times
.