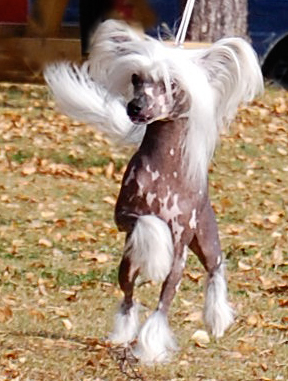 Filip (Int Multi GB Ch NordW-07 WW-09 Prefix Singapore Sling), min favorit flydde nyss 8 år. Ute i veteran för första gången med Rebecca i snöret vann han BIS Veteran på MyDog för Svante Frisk. På fredagen blev han BIS-3 veteran för Kenneth Edh. Rebecca gjorde ett fantastiskt jobb och jag har aldrig sett Filip se så bra ut, han fullkomligen glänste. Han har inte ställts ut på lääääääänge.
Som grädde på moset blev hans sonson Prefix Hemingway (ett namn att lägga på minnet) vann BIS-4 Valp! MyDog var "Gomez" första utställning och fyllde 6 månader på dagen.
***
Filip (Int Multi GB Ch NordW-07 WW-08 Prefix Singapore Sling), my favorite just turned 8 years. Out for the first time as a veteran and with Rebecca went BIS Veteran at MYDOG super show in Gothenburg on Thursday and on Friday ended up BIS3-veteran. Rebecca did a fantastic job and I have never seen Filip as good as this absolutely sparkling. He hasn't been shown for a looong time.
To top this his grandson Prefix Hemingway ( a name to start to remember) was BIS-4 puppy first show and 6 months old on the day.