Fantastiskt!
Chinese Crested Club Vinterspecialen 3/2-01
Domare: Kenneth Edh
BIS
Nord Lux Ch Prefix Absolutely Fabulous
Bh-2 Multi Ch Prefix Damascus
Bh-4 Nord Ch Prefix Wingcommander
Men famförallt:
BIS-VALP (av 15 valpar) 
Prefix Irma La Douce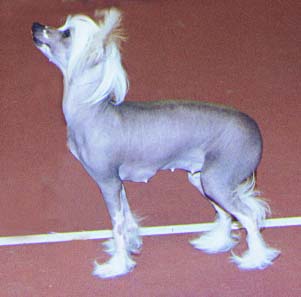 och BÄSTA HANVALP brodern Prefix In The Mood "Morgan" e: GB Imp GB S Lux Ch Moonswift Crazy Horse u: vår underbara Prefix Pretty Woman. I bådas kritik famhåller domaren deras propotioner, elegans och utmärkt fina, släta och smidiga hud. Irma vann på sina välburna öron fina vinklar fram och bak samt sin mycket feminina helhet. Morgan fick att han var mycket showig. HAN ÄR TILL SALU!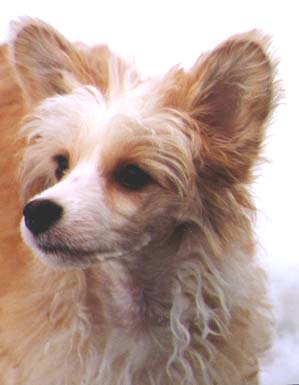 2:a i valpklassen 4-6 månader i stenhård konkurrens kom Prefix Koh-I-Noor också hon en Crazy Horse dotter slagen i klassen av ytterligare en Crazy Horse dotter Zitrin'z Honey Queen. 2:a efter Morgan kom Crazy Horse sonen Lohamras Dukat. 3:a i klassen 6-9 mån tikar Crazy Horse dottern Sun-Hee's Color of My Life. Oerhört stolta är vi över Nord Ch Prefix Wingcommanders barn 1:a valpklass 4-6 mån hanar Lohamras Emil Mandelknäck och 4 bland tikarna 4-6 mån Lohamras Emelie Lakritzkola.
Närmast väntar nu CRUFTS 9/3