P.g.a. Gunillas knäoperation har inget varit sig riktigt likt under året och därför blev årskrönikan mycket summarisk och mycket försenad. Senaste nytt blir ett sammandrag av årets första 6 månader.
Because of Gunilla's knee operation nothing has been as usual  this year. That´s why the summary of the year 2011 was cut short and delayed. Latest news will be a short summary of the first six months of the year.
Int S Fin Lux Ch PREFIX MARY QUEEN OF SCOTS blev 2 x BT4 på My Dog utställningarna 7-8/1-12, domare Hans van den Berg resp Andrew Brace. Igen BT4 i Malmö 17/3 för Harry Vella. I Luxemburg blev det storslam och hon blev Luxemburg Champion och dessutom tog hon CACIB och blev därmed Internationell Champion domare var N. Jovanoviz. I Lidköping 6/5 för di Lorenzo blev hon BIR, utan att veta hennes namn skrev i kritiken…"really a little queen of the ring."! I Vallentuna 26/5 blev det en BT3 för Martha Heine. Ägare är förstås Eva Sjöberg och Håkan Johansson.
'Mary' gained her International and Luxemburg Champion titles. Going BOB under judge di Lorenzo who wrote in the critique, without knowing her name "really a little queen of the ring."!

S Dk Ch Kbhv-10 PREFIX ROB ROY OF SCOTS blev BIR (BOB) i Vallentuna med CACIB och BIM (BOS) med CACIB i Österbybruk 26 och 27/5 för Martha Heine resp Sara Nordin. Han blev 2 x BH4 i Norrköping och Avesta i ett uruselt väder.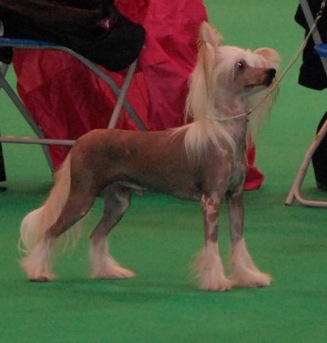 Int S Dk GB Ch SV-11 PREFIX ABRAHAM LINCOLN blev BIR (BOB) i Malmö 17/3 för Harry Vella.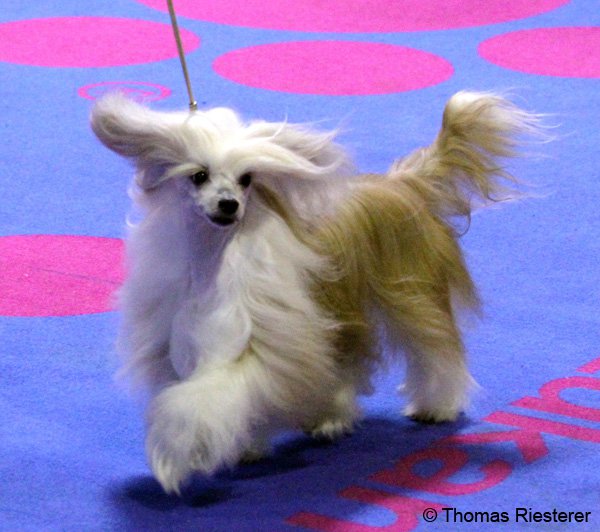 Int multi Ch PREFIX HOT GOSSIP blev BIM (BOS) på MyDog 7/1 för Hans van den Berg, ägare Gunilla Skafar.

S N US DK Nordic Ch PREFIX THE NAME OF THE GAME BT4 i Vallentuna 26/5 Martha Heine BT3 Österbybruk 27/5 Sara Nordin. På Bornholm tog hon Cert (CAC) och blev därmed NORDISK Champion, ägare Kennel Neddies.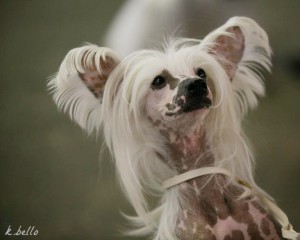 NordJW-11 PREFIX FAIR PLAY ON BROADWAY var på besök med matte Rebecca i England och ställdes ut 4 ggr. Hon vann CC på Chinese Crested Club show 6/5 med 180 hundar anmälda blev bästa tik och BIS2 domare var Ray Morland. Jennifer Gorwill gav henne RCC i Birmingham 11/5 och RCC för Tom Mather Scottish KC. 19/5. I Köpenhamn 16-17/6 blev hon BIR med CERT o CACIB domare Birte Scheel och andra dagen BIM med CERT o CACIB och titeln KBHV-12 domare Andreas Schemel.
NordJW-11 PREFIX FAIR PLAY ON BROADWAY went to England with Rebecca , she was entered at 4 shows and she won CC, Best Bitch and Res BIS at THE CHINESE CRESTED CLUB show 6/5 judge was Ray Morland. Jennifer Gorwill gave her  RCC at Birmingham 11/5 and Tom Mather RCC SKC 19/5. In Copenhagen 16-17/5 first day she was BOB with CAC and CACIB  judge Birte Scheel. Second day under judge Andreas Schemel won CAC, CACIB, BOS and the title Copenhagen Winner-12.